Epiphone Joe Pass
The Epiphone Joe Pass electric archtop is named after none other than the legendary Sicilian jazz guitarist, Joe Pass. Mr. Pass was known for his incredible solo work which included a melodic playing style and chord inversions rarely heard prior to his time.

Despite the reputation of the Joe Pass name, the guitar was originally released as the Emperor in the early 1990s. It was Epiphone's answer to its Gibson cousin, the ES-175. In 1993 the new model was released as the Emperor II, but with Joe Pass' endorsement just prior to his death in 1994, the guitar began carrying his name. Epiphone claims that Mr. Pass contributed to the restyling of the Emperor II to distinguish it from the ES-175. Interestingly enough, although Joe Pass endorsed the Epiphone model, he was normally seen playing a Gibson.

The Joe Pass Emperor II features dual Epiphone humbucker pickups, a raised pick guard with the Joe Pass signature, a multi-bound body, and gold plated hardware. The hollow body is made of maple laminate while the fret board and floating bridge are rosewood. It has a rich, mellow tone very well suited to the contemporary jazz player. And amped with the right box, it can be highly responsive and delicate at the same time.

The guitar is still in production today and enjoys fairly modest sales. However, there are some musicians who prefer to switch out the dual humbuckers in order to achieve a different sound. One of the most common replacements are Gibson's Dirty Fingers humbuckers which produce a more raw, throaty tone. Regardless, the guitar does have its share of big name users. At an average retail price of around $700, it's a great piece for the money.
Shopping Results for: Epiphone Joe Pass
Epiphone Joe Pass Emperor II Archtop Electric Guitar, Natural
List Price: $436.72
Sale Price: $424.64
Used From: $795.00





Late guitar legend Joe Pass lends his name to one of our most popular archtops. The comfortable to play Joe Pass Emperor II is slightly smaller than the jumbo jazz-boxes and features a single trapeze tailpiece to a Rosewood floating bridge, voiced by a pair of full-size Alnico Classic Humbuckers and matched aesthetically by Abalone "Tree of Life" headstock inlay and block fretboard inlay.
Epiphone "Joe Pass" EMPEROR-II PRO Hollow Body Electric Guitar with Coil Tapping, Vintage Sunburst
List Price: $717.55
Sale Price: $717.55





The new Epiphone Joe Pass Emperor-II PRO honors the "President of Bebop Guitar" and one of the most prolific and groundbreaking electric guitarists in the history of Jazz. The Joe Pass Emperor-II PRO is a true archtop guitar with classic bracing and features Epiphone's critically acclaimed new ProBucker pickups with coil-splitting plus the new Graphtech NuBone XL nut...
New Epiphone Joe Pass EMPEROR II PRO Natural Electric Guitar
Sale Price: $1,157.00





Color: Natural State: S: New Optional items: Hollow / Semihorou Pickup: passive Pickup configuration: HH Other features: coil tap Number of frets: 20 fret below Neck Scale: Medium Weight: 3.18kg Body material: Other Tremolo: None Finger plate: Rosewood Neck Joint: set neck Neck Material: maple Accessories: Soft case, adjusting wrench
New Epiphone Joe Pass Emperor II Pro -Natural- Electric Guitar
Sale Price: $1,157.00





Body Top: Select Spruce Body Materials: Lam.Maple Neck Materials: 3pcs Maple Neck Joint: Set Scale: 24.75 " Fingerboard: Rosewood Pickups: Pro-Bucker × 2 Control: 2Volume (push / pull coil-tapping), 2Tone, 3-way SW Hardware Color: Gold Weight 3...
Epiphone Joe Pass Emperor-II PRO (WR) New Electric Guitar
Sale Price: $1,157.00





Top Material: Select Spruce, Arched with Hand-Scalloped Bracing and Sound PostBack Material: Laminated Flame MapleSide Material: Laminated Flame MapleNeck Material: 3-pc Laminated Hard MapleNeck Shape: 1960s SlimTaper, C-ProfileNeck Joint: Glued-InTruss Rod: AdjustableScale Length: 24...
EPIPHONE Joe Pass Emperor 2 (NAT) New Electric Guitar
Sale Price: $1,157.00





BODYTop: Select SpruceBody: Laminated MapleNECKMaterial: 3-piece mapleThe neck joint scheme: set neckInlay: BlockFingerboard: RosewoodScale: 24.75 "(about 628mm)Number of frets: 20HARDWAREBridge: TrapezeELECTRONICSNeck Pickup: HumbuckerBridge Pickup: HumbuckerAccessories soft case included
Epiphone ES-175 Premium Hollowbody Electric Guitar Natural
Used From: $1,437.00





ES-175 Premium Hollowbody Electric Guitar Natural. Epiphone is proud to present the Epiphone ES-175 Premium, a faithful new reissue of what many consider the most famous electric archtop in popular music, heard on classics from jazz to rock in the hands of pioneers like Joe Pass, Scotty Moore, and Wes Montgomery...
Epiphone Joe Pass Emperor II Electric Guitar Vintage Sunburst
Used From: $1,147.00





Electric Guitar: with 2 Humbucker pickups, gold hardware, 24.75" scale, 1.68" nut width, set neck joint, maple neck, rosewood/block fingerboard, binding on the body, neck, and headstock, laminated maple body and top...
Additional Resources for Epiphone Joe Pass
what do you think of this? (guitar)?

i just got one of my guitars out of storage i had forgotten i had this one. its magnificent sounds incredible and is really nice to play what do you think of it?
its an Epiphone 1996 reissue Joe Pass emperor.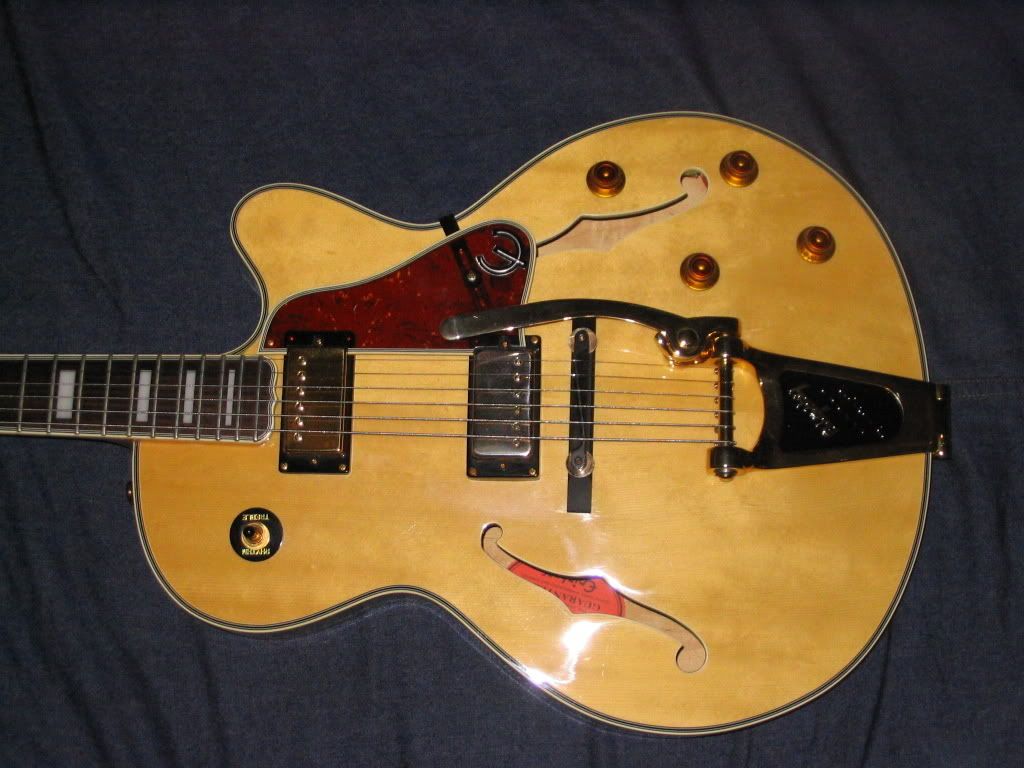 I like it! I'm partial to Epiphone guitars, though. I hope it didn't suffer in storage though, git 't playin!!
Epiphone Joe Pass review